SEGMEN :JOM SERTAI SENARAI BLOG TERHEBAT 2012 !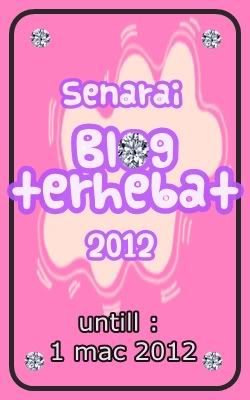 Hello haters and fakers
♥
ahaa, tonight I want to join another segmen before I go to sleep. Pink pink pink! Why I say pink? because her blog is full with the color of pink! owahh! Wanna see her blog? Click the banner above. My blog is not great or what but I like it just the way it is.
Okay Okay, now I want to tag 4 awesome bloggers:-
Ok done. Nyte yall :)
Labels: biasa je, Blog aku, hebat, Segmen
Older Post | Newer Post